Video production teams often need to work on projects collaboratively. Team members need to have fast and easy access to footage and project files, and be able to work with high-resolution files. Long gone are the days of passing around an external hard drive! Network-attached storage, or NAS, solutions are the present and the future of efficient video production teams.
What is a NAS?
To the end-user, a NAS functions just like any storage drive on their computer. It will appear as a file system just like their computer's locally installed drives, except it will be a network drive that can only be accessed with an internet connection.
In the back end, a NAS is essentially a computer with a large number of hard drives hooked up to it. Most off-the-shelf NAS solutions are small units about the size of a toaster. Some of the space is devoted to the "computer" aspect of it, but most of the space is for hard drives. Many consumer-grade NAS products have between 2 and 4 slots for hard drives, but enterprise-grade options can hold dozens.
The software included with a NAS includes many advanced features for a company's IT department to configure. But the most important feature of a NAS is the redundancy. While a NAS contains multiple hard drives, the end user sees only one. This is because the drives are combined in a "pool" of storage. The redundancy comes into play based on how the drives are configured. There are multiple ways to configure redundancy, but the end result is that a certain number of drives can outright die, but all of the data will be preserved. This is accomplished through duplicating data across multiple drives – the NAS sacrifices total storage space in favor of safety. Once a drive dies, it can be replaced with a new one, with little to no interruption to users. This makes NAS solutions ideal for active teams that have strict deadlines since there is virtually no downtime.
Advantages of a NAS
NAS devices offer a centralized storage solution that can be accessed by multiple users simultaneously, making them an ideal choice for video production teams. Networked Attached Storage devices are equally useful for teams that work in an office together and teams that work remotely. Some even work on the go!
Here are some key features that make a NAS useful for video editing teams:
Scalability
Video files can quickly fill up storage space. This is more true than ever with 4K now being the standard, and 8K becoming more popular. Video production teams need storage solutions that can scale with their growing needs. NAS devices can be easily expanded by adding additional drives or upgrading existing ones, providing a flexible and scalable storage solution for years.
High-performance
Editing and rendering high-quality video files requires high-performance storage solutions that can deliver fast read and write speeds. NAS devices that support fast connectivity options, such as 10GbE (10 Gigabit Ethernet), can provide the speed and bandwidth required for working with these large files. Even if multiple users need to access them at once!
Collaboration
Video production teams often work collaboratively on projects, and a NAS device can provide a centralized location for storing and sharing files. With a NAS, multiple users can access the same files simultaneously, enabling seamless collaboration among team members.
Backup and recovery
Data loss is a significant risk in video production, and backup and recovery solutions are crucial to ensure that important files are not lost. NAS devices typically offer built-in backup and recovery features, such as RAID configurations, snapshots, and cloud backups, providing reliable data protection for important shoots.
Best NAS Solutions for Video Teams
There are so many NAS options on the market, and many of them are wonderful solutions. You just need to make sure you purchase the right one for your needs. There are enterprise-grade large-scale solutions as well as cheaper solutions aimed at individual users are small teams. We'll cover a few of both in this list.
Jellyfish Mobile
We've written about the Jellyfish NAS before because it is one of the best NAS solutions for video teams. The Jellyfish was created by LumaForge, and unlike other storage solutions, this one was tailor-made with video editors in mind. NAS solutions can often be used for backups or for accessing small files, but video editing requires high speeds, and frequent access. LumaForge claims that the Jellyfish allows editors to work with 8K footage with no performance loss. One of the most attractive features of this product is its ease of use. The software is designed to be easy to use for anyone, even if they have never set up a server before. For video teams on the go, LumaForge's Mobile Jellyfish is a great solution – it's easy to transport and can be easily set up.
Learn more about the LumaForge Jellyfish here
Asustor Lockerstor 8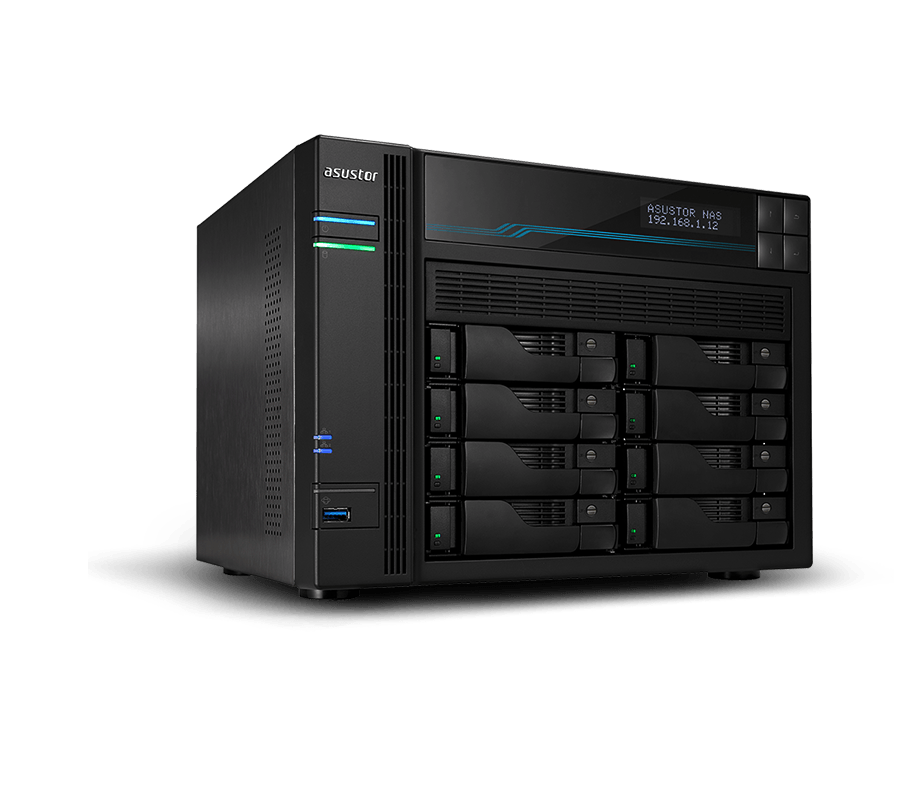 The Lockerstor line from Asustor is ideal for power users and businesses. They feature good processors, plenty of RAM, and high-speed ports. The best option for businesses is probably the Lockerstor 8, which has 8 bays for drives. This means you can expand in the future even if you're not ready now. What makes the 8-bay version better than the smaller versions is the dual 10 Gigabit Ethernet ports. This allows for fast access to large files even if there are multiple users on the network.
Learn more about the Asustor Lockerstor here
Synology DiskStation DS923+
The Synology DiskStation line is great for small businesses and home offices, and the DS923+ is the most flexible and powerful for the money. It has 4 bays for drives, which is enough expansion to give you plenty of storage for a long time. It also features a full quad-core AMD Ryzen CPU rather than the lower-power Intel Celeron processors that many budget NAS systems ship with. Unfortunately, this budget solution means that it only has two 1GbE ports, but no 10 Gigabit ports. But it's features like this that make it ideal for a small office with no more than a few users editing at once. Synology is also known for having great software that is easy to use.
Learn more about the Synology DiskStation here
QNAP TS-462
This QNAP TS-462 is a compact desktop NAS that is great for individuals but could also work for small teams. It has room for 4 drives, and features two 2.5GbE connections for reading and writing massive files quickly. One of their selling points is being able to connect the NAS to a TV with an HDMI cable and watch 4K media directly from the server. So a video team could easily gather around the office TV and watch the team's latest cuts. The machine is flexible with an extra PCIe slot in order to add an external 10GbE network card, a USB card, or a Wi-Fi card.
Learn more about the QNAP TS-462