Video files can get absolutely huge. They don't always need to be, though. Through the power of compression, you can make a video file smaller. Sometimes this results in a lower quality picture, but sometimes the compression can be done in a way that preserves almost all of the original quality. Here are some of the best video compressors available – we will try to focus on browser-based compressors so you can free up computer resources. But we can't help but include some of the best desktop solutions – more on why at the end of the article!
Handbrake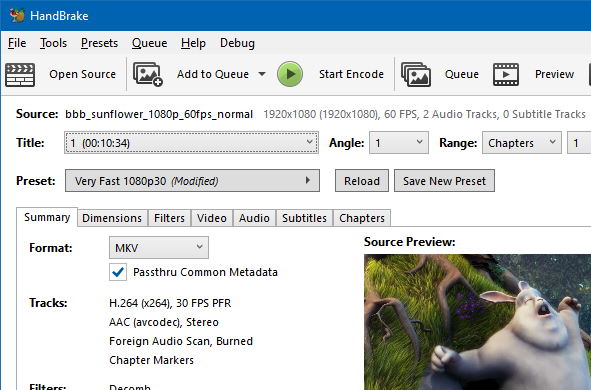 Handbrake is widely regarded as the best video compression software. It's free, open-source, and can handle just about any video file type. You can import a video file then choose from a large number of presets. These presets span different devices and quality levels. You can also fine-tune the compression level and overall quality. The downside to Handbrake's flexibility is that it uses your computer's resources to convert the video. Even if you have a powerful CPU, Handbrake will manage to use 100% of your processing power. This could temporarily cripple lower-end computers and laptops, so we don't recommend Handbrake if you have a weak system. Especially if you want to use your computer for something else while Handbrake is running. The user interface is also a bit dated – but it's the results that matter!
Learn more about Handbrake here
Online UniConverter
Online UniConverter is an all-online video compressor. The free version only lets you upload files of 500 MB or less, which certainly limits your options when trying to shrink large video files. The paid version has a 1 GB file limit, and pushes users toward purchasing their desktop application, which uses your system's resources, much like Handbrake. However, if the file size limitations are no problem, this is a good service. There are no watermarks even on the free version, and there are all of the file types, resolutions, and device-specific settings that you could ask for.
Learn more about Online UniConverter here
FreeConvert.com Video Compressor
FreeConvert.com offers a ton of different file conversion and compression tools, the basic features of which are available for free. Their base video compressor is pretty good as well. They allow uploads of 1 GB on their free plan and offer advanced settings for more tech-savvy users. They allow for H264 and H265 encoding, as well as a variety of ways to compress. You can target file size, max bitrate, quality, and more. They do have several paid plans, the highest of which allows for 9 GB file uploads.
Learn more about FreeConvert.com here
Movavi Video Converter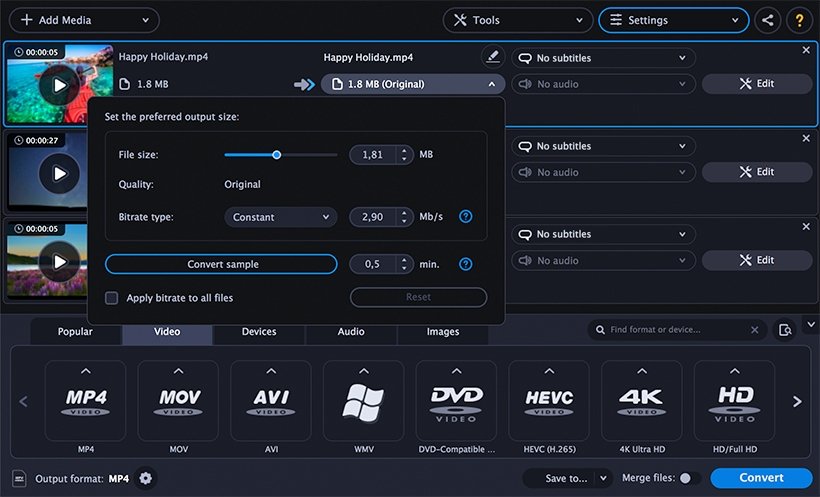 Movavi Compressor is a $54.95 desktop application that lets you easily convert and compress videos. Their interface is a little more modern and clean than Handbrake, but there are many useful settings in the program for adjusting bitrate and dialing in the file size. It's an incredibly fast and efficient software, so paying the extra cost instead of a free option may be worthwhile if you plan on converting a lot of files. If you need to do some minor video editing, the software also includes some basic cutting, cropping, and rotating features.
Learn more about Movavi Video Converter here
Why Are Most Good Converters Only For Desktop?
It seems that most video compression and conversion tools are only available in desktop versions that use system resources, rather than online-only tools. And the online tools are incredibly limited in their file size. Why is this?
Server space is one factor. The website needs to have a large server capacity to host (even if temporarily) all of the massive video files that users may want to convert. In addition to the original file, they also must keep the compressed version around for the duration of its availability to be downloaded.
If a lot of people are using the service, these costs can add up. Also, as we mentioned in regards to the desktop converters, this isn't the easiest computation for a computer to make. To compress videos quickly, the website will need to have extremely powerful computers to do the converting. And they will likely need a large supply of them, otherwise users will have to wait in a queue while the uploaders before them have their videos converted. Having this kind of computational power available would be a big upfront cost. So it's easier to ask for the user to use the power of their own computer to process the compression.
---
Videos are huge files, and compression may be more important than ever. If you're worried about how to store all of these files be sure to check out our article on the best practices for video asset management.