In order to build a successful career in video production, you need to invest wisely in equipment. Studio cameras are not quite as affordable as DSLRs, but they allow you to deliver broadcast-quality footage without the bulk of a cinematic rig. In the market for an upgrade? Here are the 10 best studio cameras with 4K resolution that money can buy.
Special thanks to Jakob Owens for the cover photo. View Jakob's profile.
Weighing in at 11 ounces, the Micro Studio Camera 4K (~$1,295) from Blackmagic squeezes good specs into a tiny frame. This camera shoots 4K UHD with six inputs/outputs and has remote control capabilities. 
Such features point to the fact this camera is designed to be a secondary studio camera or an eye in the sky. However, it can be adapted for standalone use.
Pros: Very compact and affordable, good quality footage, flexible MFT lens mount
Cons: Menu only accessible via HDMI, few options for standalone shooting
The full-size version of Blackmagic's studio camera features a huge 10-inch viewfinder, making it a much better standalone camera. 
The Studio Camera 4K 2 (~$1,695) also features talkback and tally for live broadcasting. Focusing by hand can be awkward due to the large screen, but the image quality is excellent.
Pros: 12G-SDI for higher bitrate, talkback for live broadcasting, MFT mount
Cons: Not the best in low light, no manual white balance
This relative newcomer is very clearly designed to be part of a multi-cam setup, or at least operated remotely. 
Open up the CV420-CS (~$1,999), and you will find a 1/1.7-inch 12.4MP Sony sensor which can capture 4K footage at 60fps. This camera also offers 12G-SDI and HDMI outputs, stereo audio inputs, and even the option to go infrared.
Pros: Very small body, large sensor, CS/C lens mount, night vision option
Cons: Professional pricing, not the most compact
With HDR and haze reduction technology on board, the Panasonic AK-UB300 (~$23,250) is at the top end, both in terms of features and price. 
This beast offers a bitrate of up to 24Mbps, with a 2x digital extender zoom and four neutral density filter options. Noise reduction makes this camera well suited to challenging lighting conditions, and you can swap the output board to get different ports.
Pros: Outstanding picture quality, options everywhere, low light abilities
Cons: High price, bulkier than some systems
New on the block, the 8.5MP CV420-30X-IP (~$1,699) from Marshall Electronics has a built-in 30x zoom that extends from 4.6 to 135mm. It has been designed to be a fixed IP camera for capturing events and sports, with low-light performance to match.
As such, this camera is pretty basic in terms of other features — but it performs its specified role well.
Pros: Great built-in lens, low-light performance, good for live streaming
Cons: Basic settings and features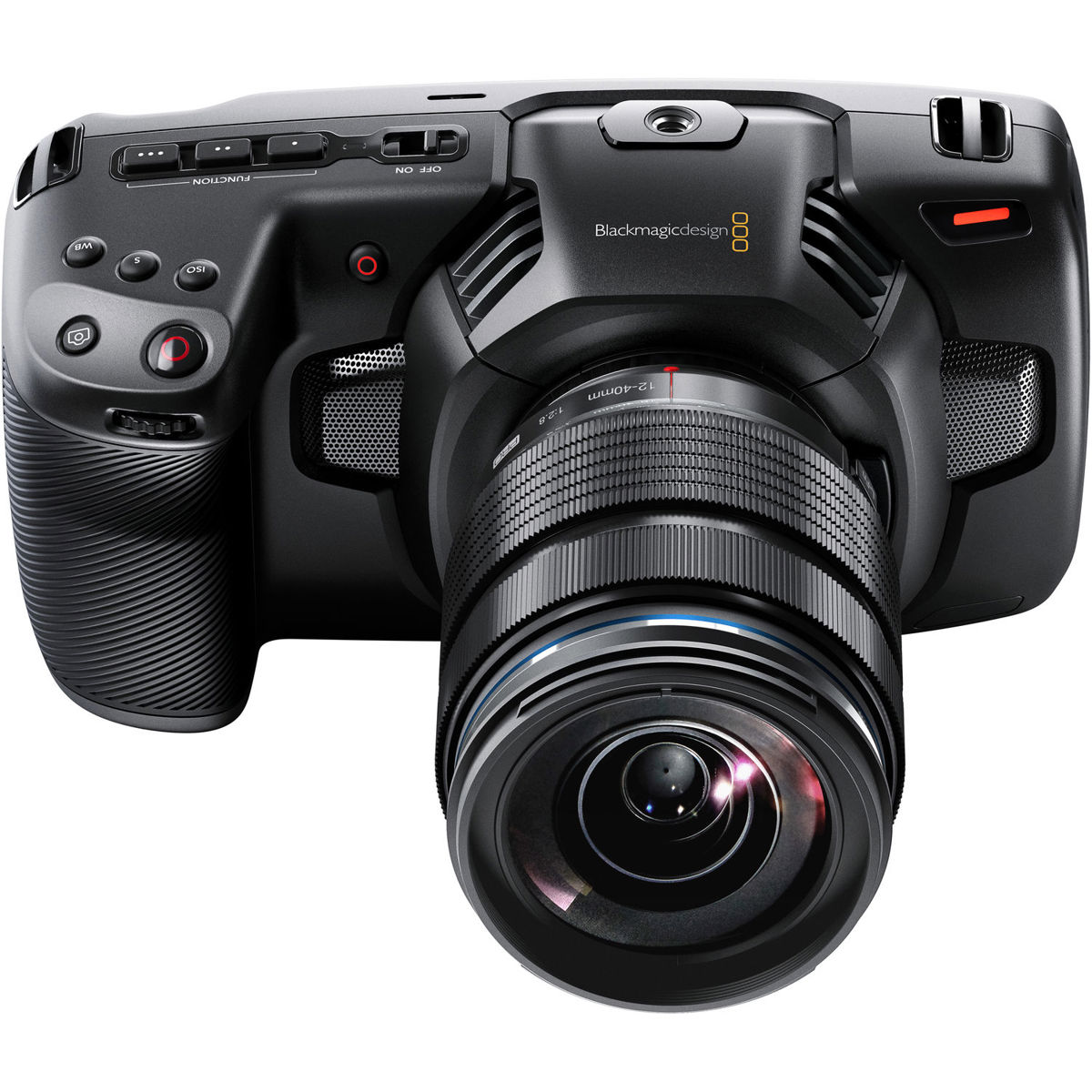 Blackmagic's Pocket Cinema Camera (~$2,890) looks more like a DSLR than a traditional studio camera. That convenient form factor comes with the downside of a 4/3-size sensor. 
However, this tiny beast can hit 120 fps. It also has a versatile MFT lens mount, wireless connectivity, a five-inch touchscreen, and 13 stops of dynamic range.
Pros: Ideal for hand holding, versatile mount, high frame rate, good connectivity
Cons: Not the best battery life, a little laggy 
If your budget is very limited, the AIDA UHD-X3L (~$660) is worth your attention. This tiny camera weighs under five ounces, but it captures 4K footage with a 1/2.5-inch progressive CMOS sensor. 
The AIDA also offers 3x optical zoom with focus and iris adjustments, noise-reduction technology, and OSD control. The picture quality is good for the price, although the only output is HDMI.
Pros: Really small, very affordable, good sensor, smart noise reduction
Cons: Only output is HDMI, maximum 30 fps frame rate
Despite being even smaller and cheaper, the UHD-100A (~$565) offers manual shooting at 4K resolution with the same progressive CMOS sensor. The lower price is because you only get a fixed 3.2mm lens — although the CS and C mount gives you plenty of options.
Once again, the main downside is that you can only output footage via HDMI. However, this model does have TRS stereo input for embedded audio.
Pros: Absolutely tiny, good value, CS/C mount with lens included, embedded audio
Cons: Only HDMI output, maximum 30 fps at 4K resolution
Packed with Sony technology, the AJA RovoCam (~$2,495) offers 12x optical zoom and 20x digital zoom. The back-illuminated CMOS sensor offers good image quality, and you can choose between autofocus and manual focus. 
This is a camera that you control remotely, and it comes with an HDBaseT interface that supports uncompressed video and stereo sound. 
Pros: Sony image processing, strong optical zoom, HDBaseT interface, compact
Cons: Relatively few connections
The boxy AIDA UHD6G-X12L (~$1,230) is listed as an EFP camera, but it should also work well in the studio realm. 
It features an impressive 12x zoom and a 1/1.7-inch progressive scan CMOS sensor with back-lit pixels. The dynamic range is impressive and, unlike some 4K cameras, it hits the full 4092 x 2160 resolution. In addition, this AIDA offers 6G-SDI and HDMI 1.4 outputs, plus VISCA control.
Pros: Big zoom, large sensor, good dynamic range, full 4K resolution
Cons: Only reaches 27.97fps
Which Studio Camera Is Best for You?
Aside from your budget, consider what you are likely to need. While the Blackmagic and Panasonic cameras are more flexible, the smaller cameras from Marshall and AIDA work nicely in controlled environments and confined spaces.
Did we miss your favorite 4K studio camera? Tell us in the comments below! This post contains affiliate links, read more about third party links.