Making a video is easier than ever before, we don't need a huge bag for all the cameras, lenses, and other equipment anymore. All we need to get started is take our smartphone out of the pocket and start shooting. You get everything right: lighting, white balance, exposure… but why do you still feel like your videos aren't as good as those popular YouTubers'?
Here are 5 quick tips for mobile video production and making your mobile videos instantly stand out.
1. Stabilize your phone
The first and foremost tip is you need to stabilize your phone for a smooth clip. Your videos will look terrible even if you shoot it in 4K. One thing you can do it's a posture to turn yourself into a stabilizer. Try this out, cling your upper arms to your body, fix the angle between your upper and lower arms, move your body instead of moving your arms when shooting, and there you go! Also, most smartphones have embedded either OIS (Optical Image Stabilization) or EIS (Electronic Image Stabilization), simply turn on this function will make a difference, however, that's not enough.
The ultimate solution is to get a smartphone gimbal, check out our guide to smartphone gimbals to help you pick the one. Gimbals are perfect partners for videography and while the price is going down, the quality is actually getting better, therefore making it worth to invest.
Photo: Joey Huang
2. Hold on for few more seconds
You might find this tip is weird at first, however, when you start editing the videos, you will know how useful it is. Hold on for few more seconds in the beginning and the end of each clip make your video editing more flexible. For instance, you'll be able to make more creative transitions. You'll never know what will happen in those few seconds, so why not start earlier and end later?
Photo:Angela Compagnone
3. Learn to use panning and zoom
Speed editing is the key to turn your panning shots into amazing transitions. Simply speed up the end of a clip and transit into the next one. At the same time, you need to keep this in mind, the two clips should be in the same direction no matter which direction you panned. When panning your camera, don't be afraid of obstructions which would naturally assist you in dipping to black. Zoom is also a choice for you to play around with transitions.
Check out the video below and see how Andy To did this in his travel video:
And here's the sample from Tik Tok user @cola of a more advanced way to use "obstructions":
4. Use Apps for More Effects
Though smartphone's camera is powerful, the third party Apps is indispensable. Apps designed for video shooting provides you a pro shooting experience. Not only can you adjust all those parameters to fit the environment, but you can also try time lapse, hyper-lapse, slow motion, etc. Apply LUTs to your video is possible as well with the app LumaFusion.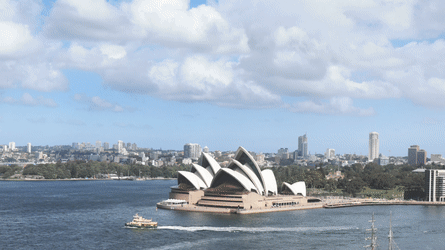 Gif: GIPHY
5. Focus
The last but not least tip is simple, but not always easy to follow. Focus on the subject you are recording. Move closer to the subject when necessary and try to opt out the irrelevant things to make your subject stand out. This tip is related to the content as well, picture the video in your mind so you know what shots you want and how to execute them. Watch more videos and find the style you like, you can start with imitating popular styles and then add your own flair to be more creative.
Special thanks to Oliver Sjöström for the cover photo background image. Follow @ollivves on Instagram for more.
Stay tuned for our upcoming articles about best mobile editing apps! What is your favorite mobile video production tip?
Leave a comment below to share how you improve your videos shot on mobile devices.